Preparing Physicians for Practice in B.C.
James Card grew up in Maple Ridge, but felt more at home in B.C.'s rugged back country than he did in the suburbs of the Lower Mainland. Becoming a doctor wasn't in his plan, even after graduating from university.
Instead, he took a job planting trees in the north. And it was during one of those outings, not too far from Mackenzie, that news came over the radio about the health care rally in Prince George, demanding that provincial leaders do something about the region's chronic physician shortage.
"That's when the seed started to set," he recalls. "It was not something I had grown up wanting to do, but I saw the opportunity."
When the time came to act on his idea, the rally had borne fruit — in 2004, the University of British Columbia's MD undergraduate program began its expansion beyond the Lower Mainland, taking root in Prince George and Victoria. Dr. Card was accepted into the first class of the Northern Medical Program, created in partnership with the University of Northern British Columbia.
After earning his medical degree in 2008, Dr. Card remained in Prince George for a two-year residency program in family medicine — a program established about a decade before the Northern Medical Program. By 2010, he had become one of the first fully-licensed physicians to emerge from UBC's distributed education program.
The Changing Landscape of Residency In B.C.
Over the past two decades, the landscape of postgraduate medical training in British Columbia has witnessed a dramatic transformation — in size and reach.
At the start of the new millennium, as discussions around the expansion of the MD undergraduate program got underway, the UBC Faculty of Medicine recognized there would be an emerging need to develop more postgraduate training opportunities for the growing number of graduates.
It wasn't long before a plan to increase the number of residency positions was laid out, and, with the support from the Provincial Government, put in motion.
Over the coming years, UBC's postgraduate programs would witness steady growth and by 2014, reached new ground with the acceptance of 323 entry-level positions — the largest number of entry-level postgraduate trainee positions in B.C. history.
Number of UBC entry-level postgraduate trainee positions from 2003 to 2014
323
Entry Positions
0%
Here at UBC, we have adopted a province-wide approach to postgraduate medical education to meet the health needs of British Columbians and provide lasting community connections and lifelong learning opportunities for our trainees.
– Dr. Roger Wong, Associate Dean, Postgraduate Medical Education
In addition to increasing the number of postgraduate trainee positions, UBC has expanded opportunities for learners using a distributed approach, which has enabled doctors to train and complete their journey to practice in communities across the province.
Today, well over 1000 postgraduate trainees are currently distributed across B.C., creating clusters of learning and enhancing service capacity in the Lower Mainland, on the Island, the Interior and in the North — including rural and remote communities, like Haida Gwaii.
Learning Medicine at the Boundary of the World
Separated from B.C.'s mainland by the fierce currents of the Hecate Strait, and often shrouded in dense fog and mist, it is easy to see why the Haida people refer to the small set of sylvan islands as "Xaadala Gwayee" — the islands at the boundary of the world.
The natural beauty of these remote islands, and the rich history and art of the Haida people who call it home, have long lured travelers willing to make the journey.
But for a young doctor in training, this place brings a particular set of challenges. The closest CT scan is in Prince Rupert, an eight hour ferry ride away. Managing a seriously ill or injured patient often involves considerations that most residents never confront — such as the weather.
"If someone couldn't be handled there, we had to get them off island, and it was not just a matter of getting the plane and getting them on board," reflects Dr. Cam Grose, a former UBC Family Medicine resident, who completed an eight-week rotation on Haida Gwaii in 2013.
The limited availability of lab tests and resources, the logistical challenges of practicing medicine in a remote location, and the cultural skills required to care for a largely Aboriginal population combine to make the family medicine residency rotation in Haida Gwaii an assignment unto itself.
All UBC family medicine residents must complete an eight-week rotation in a rural community in British Columbia. Haida Gwaii, an archipelago of two main islands and 150 smaller ones, has been one of the options for over 20 years, and has become one of the most sought-after.
The rotations on Haida Gwaii give residents access to Aboriginal health issues, the doctors and health professionals have great reputations, and it is a beautiful place to visit.
– Dr. Willa Henry, Program Director, Family Medicine Residency Training Program
Clinical Instructor Michele Leslie, a family physician based in Haida Gwaii, strives to ensure that the education extends beyond the clinic's walls. Supported by a Faculty of Medicine Special Populations Fund grant, she provides "cultural safety" training for residents, assigning readings on the history and impact of residential schools, and encouraging participation in Aboriginal community events, so that residents gain some context and can communicate more effectively.
"For every resident that has come here to train, every one has come back to do a locum as a staff physician here," Dr. Leslie says. "I really feel that is a testament to the positive experience they have as learners, and the pull of this place. People fall in love with it."
That was certainly the case for Dr. Grose, who first encountered Haida Gwaii during his fourth year in UBC's Northern Medical Program, when he spent a month in Queen Charlotte City.
"The exposure to the doctors, and being a part of the health care community, solidified my decision to pursue rural family medicine."
As a resident in Haida Gwaii, Dr. Grose took on a more independent role — managing patients with the health care team, and learning to optimize resources, such as telemedicine — to help his transition to independent practice.
It's not just the training, but the connections you make within the community. It's the patients you see, the problem solving, the strategizing that you are exposed to throughout the training. Those are the pearls that don't necessarily relate to medicine per se, but do relate to future practice.
– Dr. Cam Grose, Former UBC family medicine resident
Meeting the Health Care Needs of B.C.'S Communities
Over the next several decades, the health care system will face new challenges, as population demands change and demographic shifts take place in B.C. and across Canada. But here at UBC's Faculty of Medicine, residency programs are looking ahead and preparing the next generation of doctors to meet the province's health care needs.
In 2014, nearly half the residencies at UBC — a record number — were designated for family medicine, where the need is greatest.
And while there has been a steady rise in the number of trainees entering family medicine (a 198% increase from 2003 to 2014), specialty and subspecialty postgraduate training programs have also expanded to help address shortages and specific health care needs in B.C. From 2003 to 2014, there has been a 207% increase in those entering generalist specialties and a 60% increase in trainees entering other specialties.
Specialty choice of UBC entry-level postgraduate trainees from 2003 to 2014
From internal medicine and pediatrics through to child and adolescent psychiatry, UBC now offers 70 different specialty and subspecialty programs, all of which are designed to equip physicians with specialized skills and knowledge to benefit patients across B.C.
In child and adolescent psychiatry, you are constantly amazed by the challenges that children and youth face and what an impact mental health can have on families. Learning the expertise of how to navigate these challenges, and provide children and youth and their families with coaching and support is critical.
– Dr. Smita Naidoo, Resident, UBC Child and Adolescent Psychiatry Program
Dr. Smita Naidoo is one of a handful of residents in UBC's Child and Adolescent Psychiatry (CAP) subspecialty training program, which exposes residents to a variety of issues related to child and adolescent development and psychiatric disorders.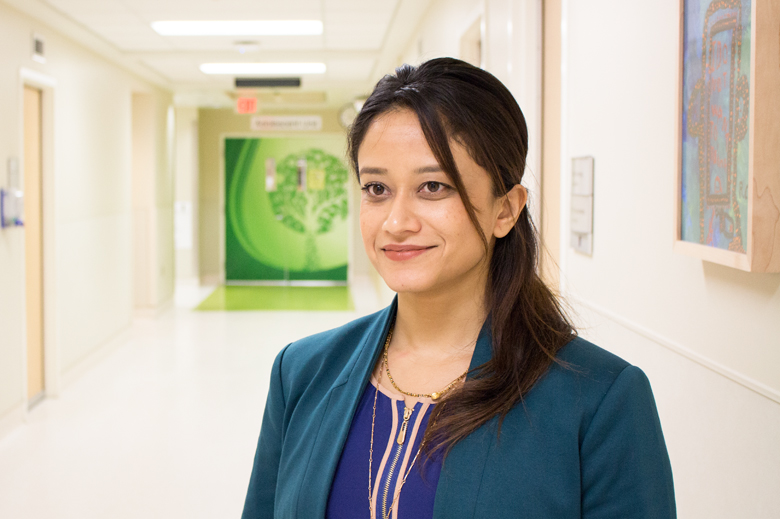 The CAP program, which follows the Royal College of Physicians and Surgeons of Canada (RCPSC) requirements for clinical training, sees residents complete a number of clinical electives and rotations in inpatient, ambulatory, community and emergency care across the Lower Mainland.
CAP residents also take part in a three-month rotation in Consultation-Liaison, a placement that Dr. Naidoo completed at B.C. Children's Hospital in Vancouver under the supervision of Andrea Chapman, the program director and a former grad of UBC's MD and postgraduate residency training programs.
Dr. Naidoo, who will be among the first cohort of residents to graduate from the CAP program, is excited by the opportunities afforded by a career in child and adolescent psychiatry. Until then, she's taking advantage of all that residency at UBC has to offer.
"The program is very flexible and really caters towards mentorship and research. If you have an interest in research, they will make sure to accommodate you. And if you want to network and get exposed to different things – they'll help you do so," says Dr. Naidoo, who is not only working on a research project of her very own, but has also linked business arms with a marketing editor to write evidence-based children's books on mental health issues.
Giving Back to the Communities of B.C.
Similar to the Family Medicine Residency Program, a number of UBC specialty programs are regionally-based, like the Psychiatry Residency Program (with sites in Vancouver, across the Lower Mainland, on the Island and in Prince George), and Emergency Medicine Residency Program (with sites in Vancouver, New Westminster, Victoria, and Kelowna).
UBC's distributed approach to medical educational is not only helping residents gain greater experience and build relationships with communities across B.C., but inspiring physicians to practice in communities where they're needed most.
In the case of former UBC family medicine resident Dr. James Card, his arrival as a family physician in the summer of 2011 heralded a new chapter for the town of Mackenzie.
Dr. Card is just one of the growing number of doctors who are completing training each year and choosing to stay in B.C. In fact, almost three quarters (72%) of the currently practicing physicians who entered postgraduate medical training at UBC between 2000 and 2014 have remained in the province.
In the coming years, UBC has plans to further distribute postgraduate training across the province — inspiring new hope for the health of communities of B.C.
Postgraduate Medical Education at UBC
The UBC Faculty of Medicine offers Family Medicine, in addition to 70 specialty and sub-specialty training programs recognized by the Royal College of Physicians and Surgeons of Canada and the College of Family Physicians of Canada. Through initiatives, like the Resident Wellness Office and the Transition into Practice Program, the Postgraduate Medical Education (PGME) Office ensures trainees are well-supported throughout their time as learners at UBC, and beyond.
Residents are at a critical and demanding point in their careers. Here at UBC, we believe in making sure all of our residents — whether they are based in Vancouver or Terrace — are well supported and given the tools they need to navigate any number of challenges. The Resident Wellness Office (RWO) is devoted to helping UBC residents and their families manage the unique stresses of medical education and practice and offers a myriad of resources, including one-on-one counselling services, wellness workshops and events.
For many residents, heading out into the working world as a practicing physician means facing a whole new set of challenges. To help residents and recent graduates navigate the range of financial and business considerations associated with transitioning from residency into practice, UBC's PGME Office created the Transition into Practice (TIP) Program, which offers centralized resources — on everything from obtaining hospital privileges to establishing a practice — to help give residents an early start.